WATCH — COWGER: Legalize Asexual Marriage!
On his radio show, conservative talk show host Caiden Cowger asked the question, "Why can't asexuals marry?"
"Since marriage doesn't have any significance anymore, and eventually polygamists will be able to marry, what about asexuals?" Cowger stated on YouTube. "I should have the ability to marry the person that I look at every morning in the mirror."
Watch the satirical video above.
The Capitalist That Saved America
CLICK HERE TO WATCH ON YOUTUBE

America is starting to feel like America again (complete with the buzz of liberals bitching in the background).
And at the risk of sounding sycophantic… I'm beginning to think  Donald Trump is from the planet Krypton and his real father's name is Jor-El…  Are you kidding me?
Like most of you—I'd become conditioned to believe that ANY positive changes to our government (if not impossible) would be a painfully long process.
Not our President. But again, there is little 'conventional' about Donald John Trump.
President Trump has had the most successful first year in modern presidential history—  yet over 90% of his coverage  by the mainstream media is negative.  Despite all that… the Trump economy is exploding.  Breaking a new record almost daily…it seem.
Trump owns the media… lock, stock and barrel. He lives in their heads.  And make no mistake, their hatred for Trump is real.  And if YOU support Trump— they hate you too.
And laughably—these pompous-ass elite blowhards claim Donald Trump is the biggest idiot on the planet—  yet he keeps kicking their asses.   LOL.
Hard.
The interview with Sheila Jackson Lee is a hoot….. SJL is played by my good friend, who has asked to remain anonymous because she lives and works in Hateful Hollywood…but she is SO funny.  She used to work for DISNEY, IN LIVING COLOR, etc.
This episode also features "the Golden Frogleg Awards."
SEX, URANIUM, & ROCK & ROLL
CREATED, WRITTEN, ENGINEERED AND PRODUCED BY: JOE DAN GORMAN
CLICK HERE to watch on YouTube.
The collapse is underway…and it is awesome.  Liberalism is imploding everywhere.
But it is not without cost— liberalism has destroyed so many institutions that were 'net positives' for America—and now they're just hollowed-out carcasses of their former 'family-friendly' selves: Hollywood, the broadcast media, NFL and so on.
It's because liberalism always takes the low road, the easy road, the free stuff road– the road without morals or responsibility… and your Professional Liberals place political agenda above everything else. Everything. Truth isn't even on the list.
Even now.. as they pretend to to take responsibility for the tsunami of liberal perverts being exposed—they're not.  Their motives are never pure–and certainly not honest…which is why they will continue to fail.
For the last few months, even the Networks are cheating the Nielsons to hide their true disastrous drop in viewers. LOL..   According to the Wall Street Journal— they intentionally misspell shows to 'fool the Nielson's automated system' into ignoring broadcasts on nights with few viewers; for example "NBC Nitely News"
Pause here to giggle.
Trump did not make them hateful—they've always been hateful.  And their arrogant hostility toward those of us who live in reality — is at psychotic levels.
They're a cult.  They are not well…and their icons are falling like dominos.
They've grown accustom to receiving orders… but there is now confusion brewing.  They're breaking into factions… the blindfolded Clinton Loyalist faction, and flaming Bernie Sanders Socialists…and the Window lickers— who will follow anyone.
The've been too busy trying to take out Trump to notice their own boat was sinking.
Anybody else want popcorn?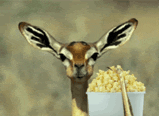 Other Viewing Options: YouTube
CREATED, WRITTEN, ENGINEERED, AND PRODUCED BY: JOE DAN GORMAN
The anti-Trump forces, the liberals, the rhinos and other assorted globalists are actually more anti-American than they are anti-Trump, because truth be told—they are opposed ANYONE that's America First…. but be that as it may, they are losing on every front—from Hollywood to the NFL to our now hysterical attack-dog media…
…and it is glorious to watch.
Even miracles are happening— 'the 8-year Mute' George W. Bush suddenly spoke.  Of course, he used this opportunity to criticize Trump as did his Democrat counterpart- Barack Insane Obama – who incidentally,between these 2 former presidents are responsible for 75% of America's $20 Trillion budget.
Neither made reference to Trump's amazing economic numbers thus far.
Publicly attacking President Trump for the very personal phone call to the family of one of our fallen heroes… is even a new low for these sick, sick people. But not surprising.
Over on another liberal planetoid—I heard clips from NBC where Mika & Joe [or 'the Pigeon Sisters as Chris Plante calls them] were actually openly sympathetic to the North Koreans —while of course, viciously attacking the President Trump as the cause and aggressor.  It was stunning.
"Mika, you've got a mind-meld with some people in North Korea," Scarborough said.
I'm all for reviewing these broadcaster licenses...  I wish they'd take them away…and level the playing field with those of us who actually work.